LED Ceiling Lights
---
The JBRND Ceiling Light is a high intensity 28Vdc LED light developed for the corporate and VIP aviation markets. The light source utilizes a series of high bright LEDs and its compact size is ideal for overhead lighting in such areas as aircraft cabin, baggage storage, entryways and galleys. There are two standard ceiling light sizes available, 6in and 3in.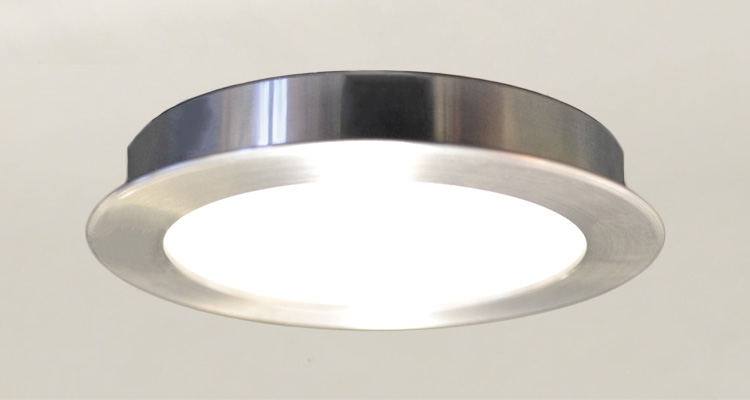 ---
Cool & Bright
Utilizing a flush mount design for easy installation, the Ceiling Light provides the light output required by aircraft of all size and type. A Rigid LED Circuit Board is used in the light housing which provides for low heat generation and low power consumption. The LED Ceiling Light features customizable color types with evenly distributed high quality white light. For alternate color temperatures, contact JBRND.
The JBRND Ceiling Light can also be ordered as a combination LED ceiling light and emergency light. The voltage input to the emergency light can be 6V, 12V, 24V or 28V from the aircraft emergency light system. It is used where emergency lighting is required in areas such as aircraft cabin, baggage storage, entryways and galleys etc.
The Assembly
Metal Housing
Rigid LED Circuit Board
White Polycarbonate Lens
Mil-spec Rubber Grommet
2 Pin Male Connector for Standard Ceiling Light
4 Pin Male Connector for Ceiling/Emergency Light
---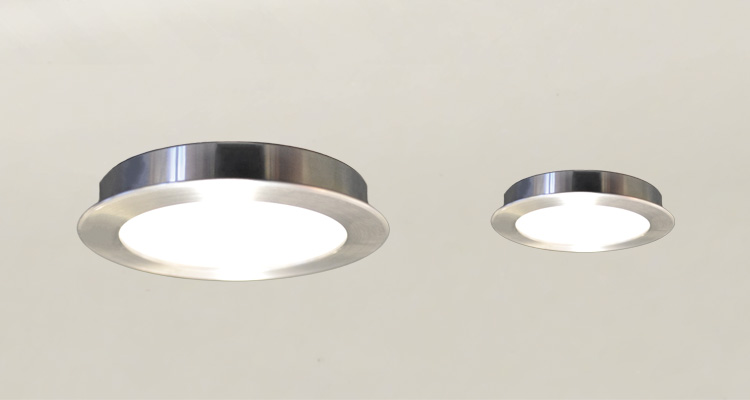 The LED Ceiling Light is a non-essential electrical item and aircraft power to the system is controlled by dedicated circuit breakers. Power may be supplied to the LED Ceiling Light through the use of the Cabin Management System (CMS) or through the use of cabin installed switches that controls the ON/OFF function of the LED Ceiling Light.
Download the Brochure
Get the JBRND brochure for our ceiling lights. The brochure is one page, in PDF format, ready for printing. If you are interested in any other JBRND brochures, make sure to visit our Downloads Section, where there are many others available. As always, just get in touch if you have questions.
Download Brochure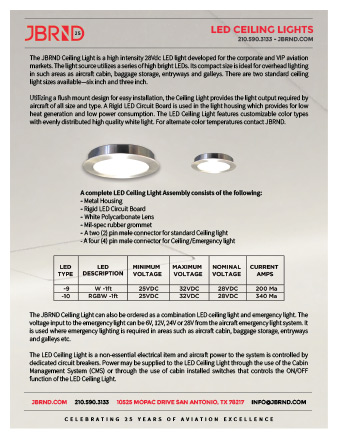 Would you like more information?
JBRND's ceiling lights are a great addition for any aircraft. We look forward to discussing your project. Get in touch with us today to get more information by clicking the button below.
Contact JBRND